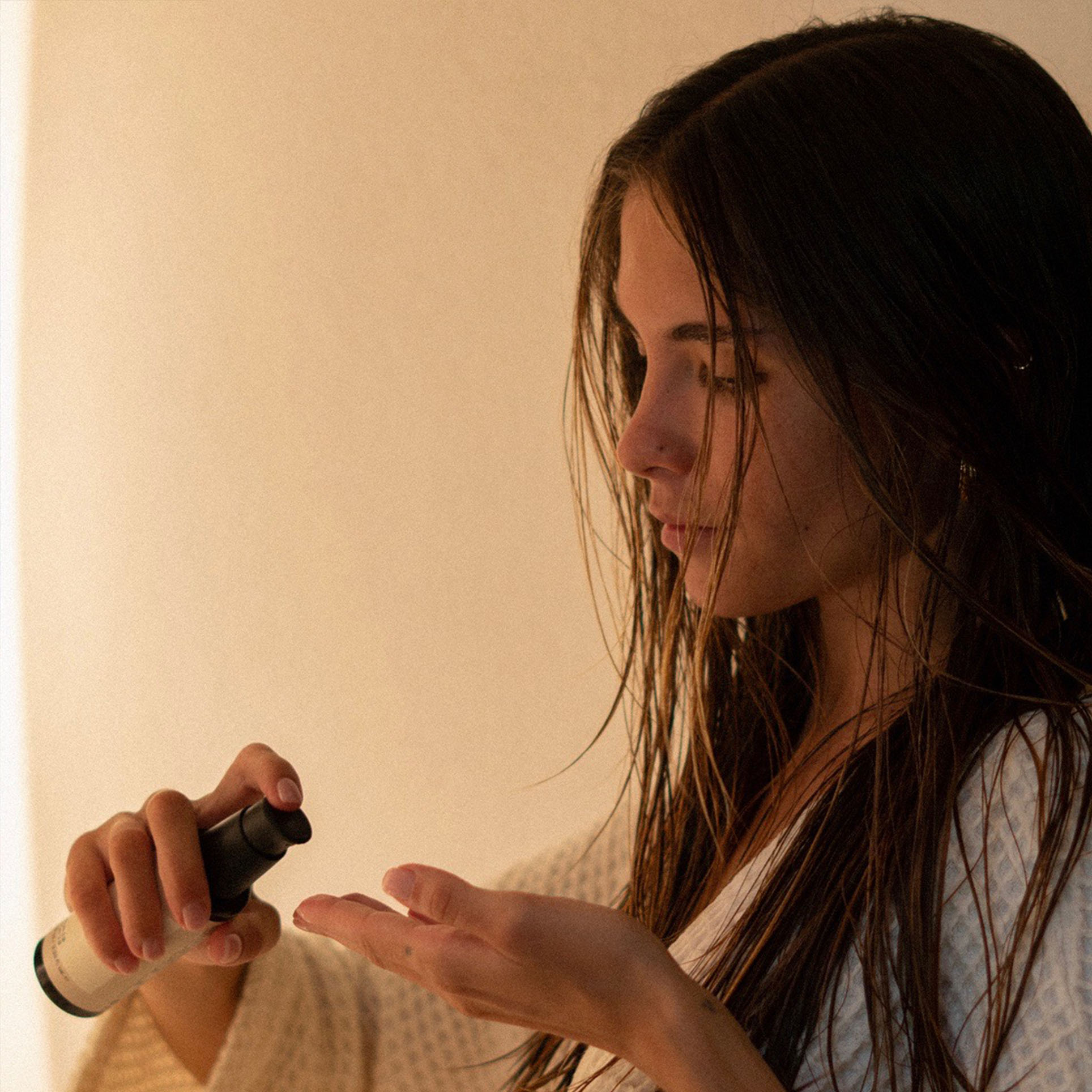 Sustainable Cosmetic Products & Vegan Ingredients
Ginseng, Ginger & Aloe Vera
The most avant-garde technology of trichology combined with natural traditional ingredients, such as: Ginseng, Ginger and Aloe Vera to create a revolutionary treatment for healthy hair. Formulated for stressed, damaged, dry and dull hair. Our hair accumulates residue caused by pollution, flaking, excess sebum, sweating and other impurities, which lead to its poor oxygenation.  Our double Detox Anti-age treatment provides deeply "Detoxifying" cleansing, which cleans and regenerates the scalp, and our concentrated Shock treatment then repairs and fills the capillary fibre. The results are visible from the very first use. You will notice how your hair recovers; finding hair is stronger, purer, with more body and silkier.
Double treatment:
DETOX – Through a deeply cleansing exfoliation we will de-stress our scalp, and this will help our hair to grow strong and healthy.
ANTI-AGE – Anti-age treatment consisting of filling the capillary fibre and sealing the cuticle. The result will be nourished, shiny and healthy hair, from the very first use.
Active ingredients:
Ginseng – herb used in Asian medicine. Strengthens the hair follicles, accelerating their growth. Helps hair to grow stronger and healthier.
Ginger – a plant whose root is used for medicinal purposes in Asian cultures. Helps to restore the structure of the hair; restoring flexibility, elasticity, vitality and shine.
Aloe Vera – a plant widely used in the cosmetic sector due to its excellent nutritional properties. An excellent hair conditioner. Its use ensures shiny and silky hair.
Detox Anti-age range:
This treatment consists of: Shampoo, Mask & Serum, which can be included into your usual routine. We recommend you use it at least every 2 or 3 days. But if you wash your hair everyday, you can use it each day without any problem. On the other hand, the Shock Single Dose Treatment in individual sachets should be used every 3/4 weeks. Although there is no inconvenience in using it more often.
Detox Anti-Pollution Exfoliating Shampoo 1.0 – providing full cleanliness and exfoliation of the scalp. Its natural active ingredients and its physical peeling manages to eliminate toxins and residue from the hair caused by environmental damage and contamination.
Method of use: Apply to scalp and hair, massage with fingertips and rinse.
Tips:
*We recommend double application. That is to say, apply the shampoo twice.  You do not need to apply more shampoo than usual, a small amount is sufficient. You will notice that with the second application, the product will generate a good amount of foam, which implies deep cleansing.