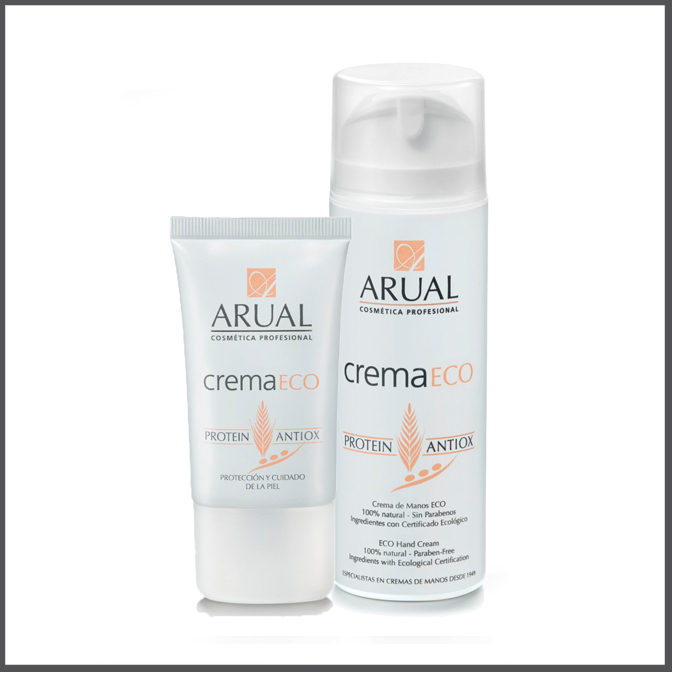 ECO HAND Cream- 100% Natural.
Formulated with Ecological Certificated Ingredients. Immediate relief to dry, malnourished and cracked hands. Silky and non-greasy cream. Fresh fragrance.  Daily use. Parabens free.
From the Classic ARUAL CREAM of a life time, the ARUALPLUS CREAM is born. As is the case with the Classic ARUAL CREAM, it can be applied as body cream, obtaining nutrition and maximum protection for the skin.
Ingredients:
WHEAT AND SOYA PROTEINS: Brings to the skin the nutrients needed for their natural renewal and helps the improvement of cellular metabolism with the aim to mitigate the natural cells aging.
GRAPE EXTRACT: As an antioxidant, rich in anti-free radical agents and therefore inhibitors of lipid peroxidation.
The action of these ingredients offers a marked anti-inflammatory and immunostimulant activity.
SOLAR FILTERS: Combination of chemical U.V. filters and physical U.V. filters, that protect the skin cells from the sun's ultraviolet radiation.
Specialists in Hand Cream since 1949